Previous Page: Chair of Applied Mathematics - Service
---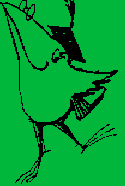 Tutorial about the services on the Internet
These documents have been created especially for the Internet Tutorial offered for members and students of the Department of Mathematics. Here, we want to provide an overview about the possibilities of the World Wide Web.
---
You can get information about the following topics:
---
Myroslav J. Münzer offers information about the Internet written in German language. These links provide a good introduction to the use of the Internet.
---
© www-mathe5@uni-bayreuth.de Last modified: $Date: 2011/04/27 16:33:03 $